Renovating a house may not be the first choice for many but in Toronto's heated housing market, it can make a lot of sense. The rewards can outweigh the costs. For Fernando and Liz, they never expected to renovate their first home but it's been a rewarding and a massive learning experience. They share their story here:
Wyatt: Liz, Fernando, thanks for agreeing to speak with us. First of all, what prompted you as a first-time homebuyer to renovate rather than buy a house in move-in condition?

Fernando: I don't think we ever had a plan to find a home to renovate. Initially, we just wanted to get into the market before prices climbed even higher. We thought we'd rent out the property until we wanted to start a family and move in ourselves. We ended up buying a triplex, but with no washroom on the main floor and other structural issues, we realized pretty quickly that it would be difficult to rent out. So we had a decision to make—do we invest in it enough to make it a decent triplex or do we turn it into our family home?
Liz: To help us decide, we set up a big white board in our bedroom and covered it in "pros and cons." We went back and forth for a long time because, at first, we did think we wanted the house as an investment property, at least for a couple years. Then we realized that if we made it a family home before we started having kids, we'd be ready and settled when that time came.
I will say that, from the very first time we went out looking, we were both more drawn to a fixer-upper than to a renovated place because we liked the feeling of having a real project to work on. The fact that it was old and needed work was cool and exciting to us.
Fernando: It was also exciting that Liz, who works part-time, wanted to invest her creative energy and handcrafting skills into it. Originally, we felt like it would just be her project but in the end, it has been a real growth experience for both of us. 

Still, you can't under-estimate how much a project like this can consume your life and relationship.
Wyatt: Are you guys still planning to use it as an investment or will you be the end users?
Liz: Our current plan is to move in, renovate, make it our family home, and rent out the basement. Long-term, we'd love to go live abroad for a year or something like that. When we come back, we'd like to maybe rent or buy a nicely renovated house if we can, then rent this one. So lots can happen down the road, but for now this will be our home.
Fernando: We didn't buy it feeling like this was our "dream home". But now that we're renovating it, it feels like it could be a place where we stay a long time.
Liz: At some point, I remember saying to you… "My dream is to move into a home with a yard and if we're going to do that in the next couple years anyway, let's look at this place, because I don't want to be renovating somewhere when we have little kids." Now we've got time. We've got energy. We've got money. So I feel like that is what finally tipped the scales for us.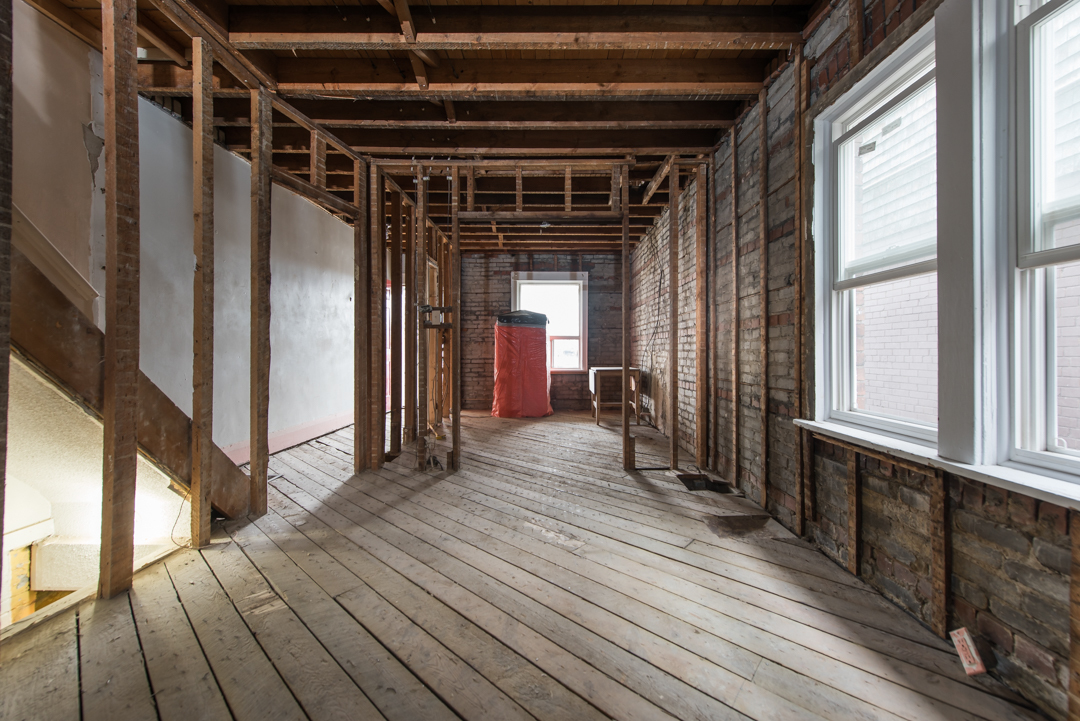 Wyatt: As a first-time renovator, what have been your biggest surprises.

Liz: The biggest surprise for me has been how much time it takes. The renovation process is very time-consuming. Fernando is really patient but I'm action-oriented. I like to get things done quickly. This is a process where you can't move that fast even if you want to. You're meeting with people. You're going back and forth constantly. Things might not be what you think they are. It often feels like a full-time job.
Fernando: Yes, a full-time job. My biggest surprise was that I thought I wanted to stay completely out of it and let Liz run the show. But once I started getting into it, I found it really enjoyable. For a while I was like, this could be fun to even take a sabbatical and ...
Liz: become a contractor!
Fernando: Yeah, it's like, "I can build my own home!" So much about renovating is science-based and there's tons of good "how to" advice out there.
Wyatt: What advice would you give to people about to start a renovation?
Liz: I would say, don't be afraid to allow it to take over your life. Let yourself be totally absorbed in it for a few months because, after that, it's going to be done and you're going to be living in this house that you've created for a long time. So think everything over, get multiple quotes, talk to lots of people. Read all the blogs and all the Pinterests and let yourself become obsessed.
We're still in that phase, but I can see that when we're done with it, we're going to be so pleased that we took our time and made this a really cool home that's a true reflection of us.
Fernando: I agree. I have a contractor friend in Miami who says that the more you plan, the better it will be. So spend your time planning, rather than rushing into it. He also advises you to involve someone who can help you think of your home  "wholistically".
Wyatt: You mean, how everything fits together...
Fernando: Yes, the architecture of the building, the interior design, the furnishings, it should all work together.
Liz: That being said, we did not use a designer. We've kind of done it ourselves...
Fernando: But I've gotten some good advice that's been very helpful.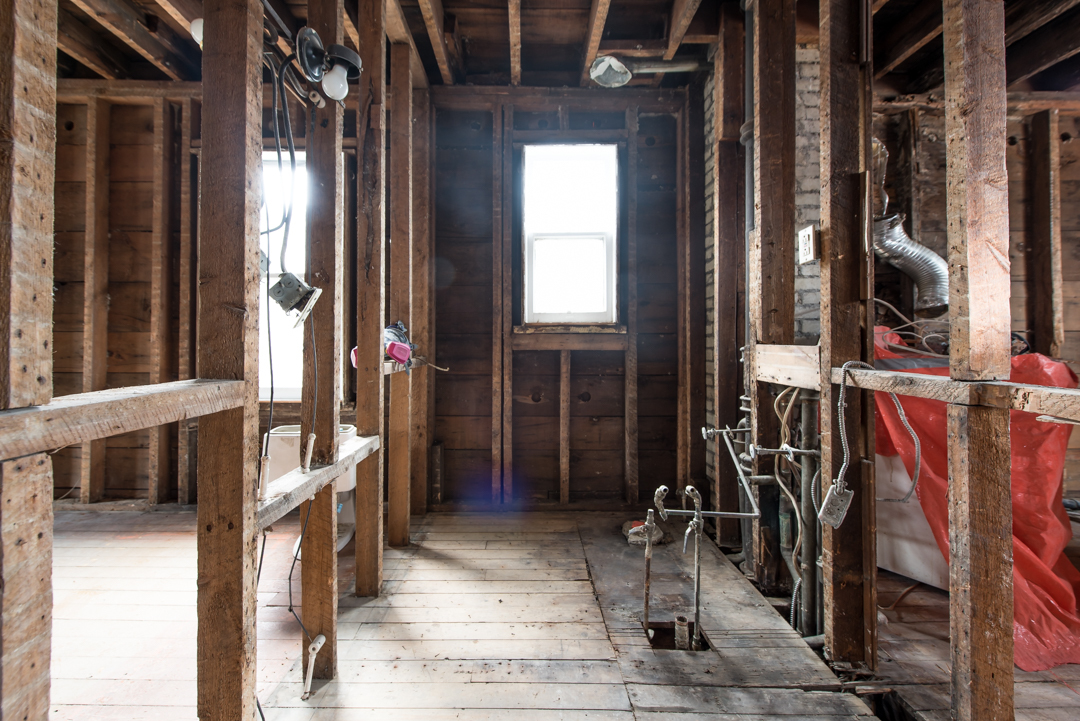 "We didn't buy it feeling like this was our "dream home". But now that we're renovating it, it feels like it could be a place where we stay a long time."
Wyatt: So, are you thinking of becoming home flippers now?

Liz: When we first started, I was thinking like, hey, we could get good at renovating and become flippers.  Now that we're into it, I waffle. Some days I just want it all to be over and never do it again. But then it gets good again.
Wyatt: So just a few more questions on the renovation details: Did you pay out of pocket or did you finance the renovations? Would you do it the same or differently next time?
Fernando: Our goal was to pay out of pocket initially. And then, at some point, we realized that we wouldn't be able to afford to do everything we wanted just out-of-pocket. Luckily, the way the market is right now, we could refinance right away and get more money.
Liz: So now, we're doing half and half.
Fernando: Half and half...
Wyatt: That makes sense. How did you find the process of getting permits?
Liz: It's one of those things that is very time-consuming and takes longer than you'll ever imagine. One thing I would absolutely recommend to anyone doing this is to find a drafter/designer or architect who lives in the city where you're renovating.
Wyatt: Which is something you're dealing with right now...
Liz: You want that person to come with you to get permits, and be creative with you in the space.
Fernando: If you're renovating the whole house from gutting, don't think of it as finding someone to do the paperwork. Think of it as finding an architect or designer, who will help you go into detail on the finer aspects of the work…
Wyatt: The wholistic part of the project.
Fernando: Right, because we went ahead and just hired somebody who could do the paperwork, but I'm not sure that they're really...
Wyatt: Passionate about it?
Fernando: Passionate about helping us create our best house. They just want to get the work done.
Liz: At first, I thought about permits like… how do you get around the inspections, and get around the city. Then, after talking to more and more people, I realized that inspectors and permit people are really there to protect you. They're working for you and they're there to make sure that the work is done well. It's actually a really important part of the process, but you've got to give it time.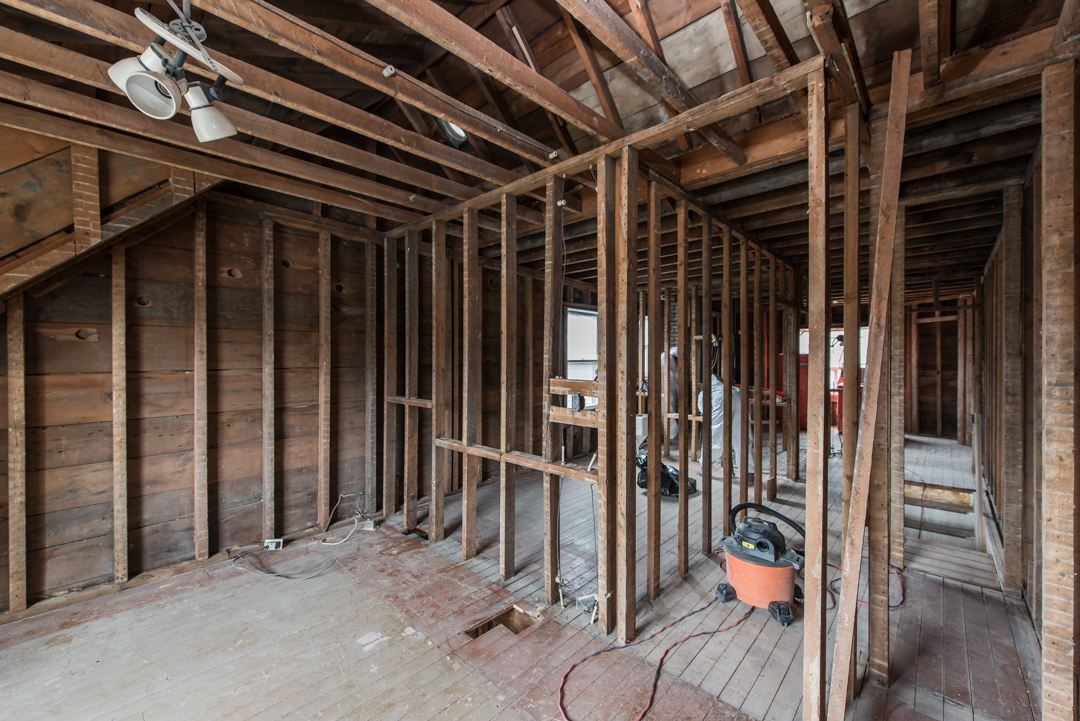 Wyatt: So permits might be annoying, but they serve a purpose.
Fernando: Yeah, I think people do better quality work when they know that it's going to be inspected by somebody whose best interest is to protect the homeowner.
Wyatt: A question about the details. Where did you source your materials in terms of finishes?
Liz: We're not quite at that point yet, but the kitchen, the bathrooms ... they're all going to be IKEA. We want affordable and modern looking and something that will work well for us. As far as other materials and finishings, I think we'll be going generic – Home Depot type of stuff.
Wyatt: You mentioned repurposing some of the original structure to use as source material.
Liz: Yes… wherever possible, I'm trying to keep the original structure and reuse things where we can. That just feels very interesting to me and…
Fernando: makes it unique.
Liz: I think it will be very fulfilling in the long run to live in a space that's like that. Part of the framing will be coming down when we make it open concept, and I hope to make the old framing into furniture. We're also going to try to expose brick on the shared wall.
Wyatt: Final question, now that we've talked about some of the problems and issues you've had, what's the most enjoyable aspect of this whole experience of rebuilding this house?
Fernando: I think building it well ... knowing that you can trust what's behind the walls.
Wyatt: Rather than move into a ready-made place made of "papier-mâché", right?
Fernando: Right. Knowing that whatever is behind the walls…the insulation, the electrical wiring and stuff….that it's all good quality.
Liz: I think I love being able to be creative about it. Using it as a blank canvas and pouring ourselves into it. That's very exciting to me and I think that's still going to last as we keep doing parts of the renovation.
The other thing that was surprisingly enjoyable was when we gutted it. To actually see the bones of the house was, and still is, kind of thrilling. I didn't expect that at all.
Wyatt: You could build back up from nothing, right?
Liz: Yes, for years. It's got a very strong structure. It's really interesting to see what it was actually made of and what we're actually going to be living in.
Fernando: Something that's particularly rewarding for me is soundproofing the rooms. Knowing that we can decide where to put our office, for example, rather than just having to live with what's there. You feel like you're in control.
Wyatt: Control, now that's a good place to end.  Thanks to you both for your time.