Inspired by the industrial hard lofts of New York and Japanese minimalism, 643 Carlaw Ave (Carlaw Heights) is a one-of-a-kind, custom built home that has truly become a landmark and iconic home in Riverdale.
The finesse and care that has gone into every detail is unlike anything that I have ever seen before in the Toronto real estate market (or torontomls). The home is a perfect example of what can happen when a home is designed with a purpose and a theme. The spaces blend together and create a sense of unity.

The best part about this house is that it wasn't designed by an architect or interior designer AND it wasn't built by a real estate developer - instead it was completely crafted by a self-taught husband and wife team that are extremely passionate about design and modern architecture.
I'm thrilled to sit down with Darko - the "homeowner, designer and architect" to talk about what inspired him to build such a unique and stunning home.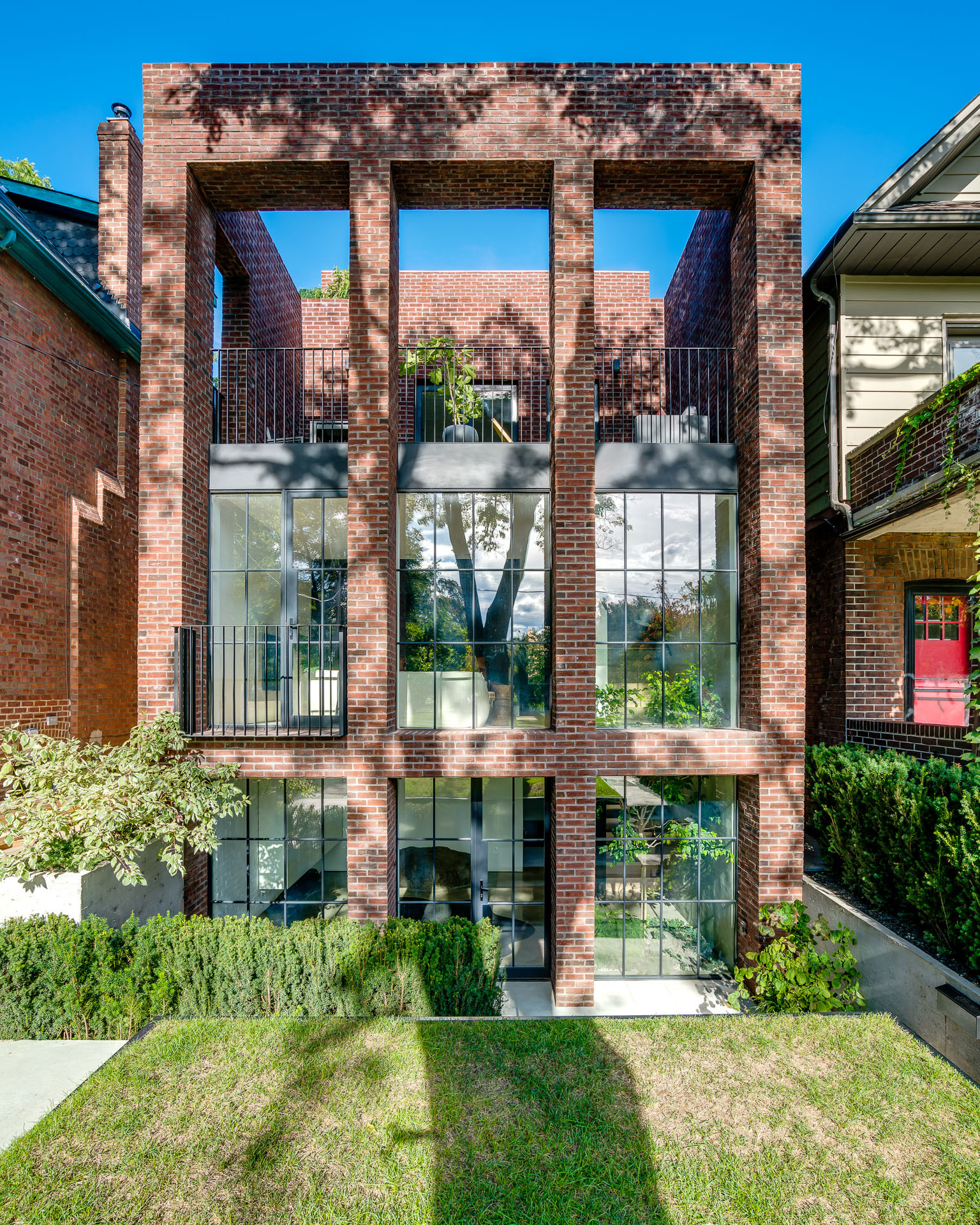 Adam Brind: Today, we're just south of the Danforth at Withrow Park, talking about one of the most unique houses that I've ever seen.
The house was modeled after the industrial lofts of New York and we're here talking to Darko, the homeowner, who's super passionate about modern design.
I'm Adam Brind and welcome to 643 Carlaw.
Adam Brind: This house is so special that I felt it was almost impossible for me to explain it and so having you sit down with us, is truly special, so thank-you.
Adam Brind: First off, my question for you is where did the inspiration come from this house, because it's so detailed on every floor,  where did it come from?
Darko: Well, Adam, for the simple modern house, but we have that in mind, you look obviously to Japanese design, nature being integrated into the living environment. Another major influence probably, the brown stones ...
Darko: ... with a sort of slightly industrial look, brick, and glass. I would say inside the interior design is influenced by the ideas of modern architecture, with more embellishments, but sort of simple and elegant lines.
Adam Brind: So what are some of the things that you did to bring the outside in?
Darko: The best feature of this house is Withrow Park. You're across the road from this magnificent park and the idea was to bring the park in, so we opened the house, we built the front of the house to invite the park inside.
Darko: We have a small indoor garden. You enter the house but you still feel that you're outside. It's a sort of a transitional space.
Adam Brind: Now I think you mentioned, you were ready to go with an olive tree on the inside of the house but ended up with a ficus trees, so what changed that and I mean it's a pretty amazing feature. How does maintenance work?
Darko: Well, we wanted to have a living tree inside the house. Olive tree was our preference but unfortunately it would not do well in the location, so the nursery people suggested a ficus tree which is also cool because it's an evergreen tree, so even in winter, in dead of winter, you walk into the house and you're still surrounded by lush greenery.
Adam Brind: Wow. And this house has so many details, endless really. What challenged you about building this house?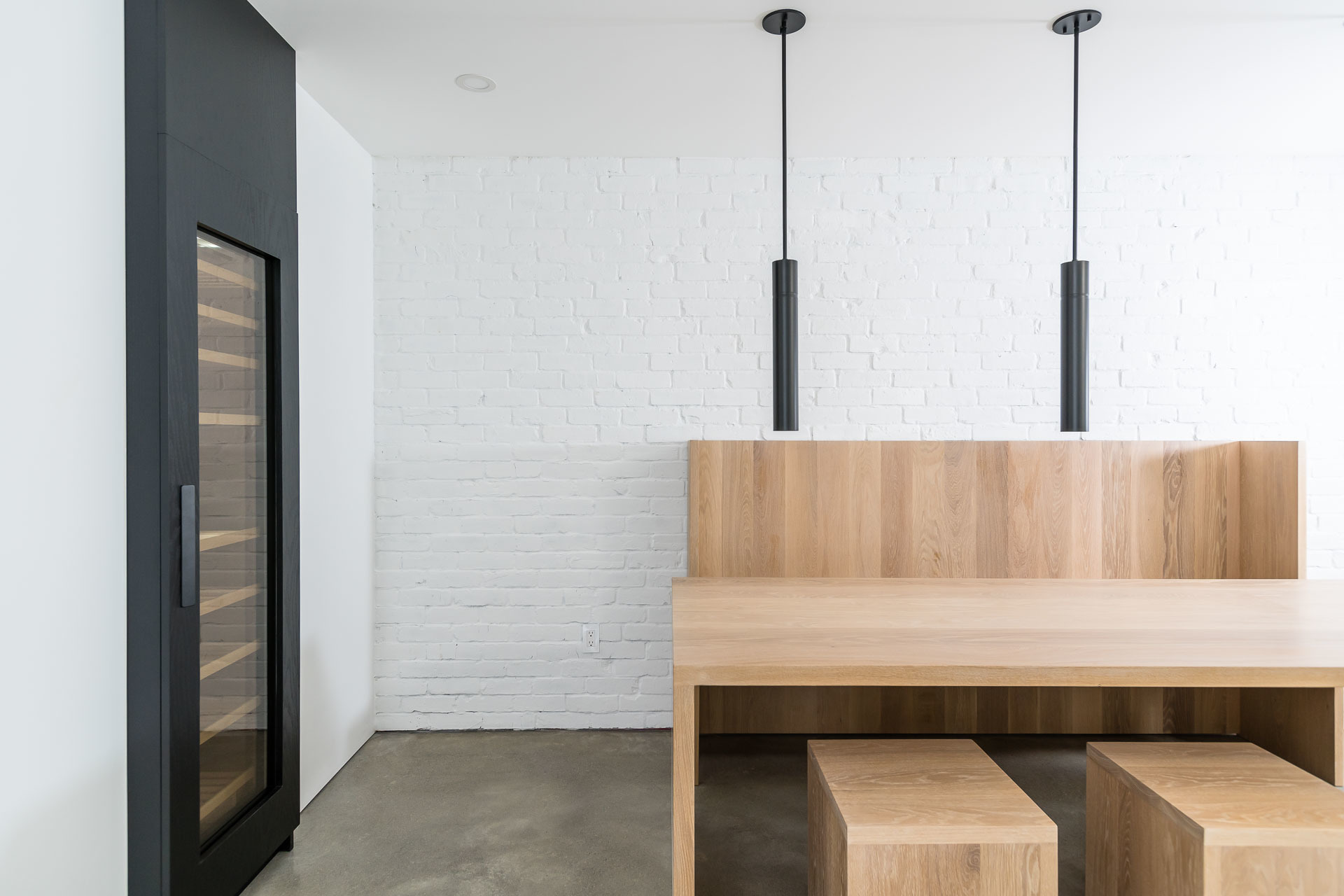 Darko: Well, I would say that the main challenge really is envisioning this house as a modern house that will still feel as if it's been here for a century.
Adam Brind: Right.
Darko: So in order to do that, we wanted it to stand out obviously, but we wanted to blend in as well.
Adam Brind: Right.
Darko: Yes. Designing the whole thing. Everything else is technical. The bricks, we sourced them so that they are made to match the original look and feel of the original brick of the house.
Adam Brind: Then you brought some of the old bricks to the inside as a cladding. How'd you do that?
Darko: Well that was a hard labor of love.
Darko: There was a lot of brick that was left after demolishing the old house and we wanted to put it to good use, and we felt that we should honor the history of the original house by retaining that brick. Some of it is used on the outside, mixed in with the new brick, but most of it is actually used on the inside. The old brick was cleaned, the faces of it were cut into three quarter inch veneer brick pieces and then they were installed over 400 feet of...
Adam Brind: Wow.
Adam Brind: So that's why the interior walls look like they're a hundred years old.
Darko: Exactly.
Adam Brind: Can you talk to us a little bit how you, how you paid homage to the neighbourhood and, the original house?
Darko: Yes, well some of it is as I mentioned. The brick was intentional. Others were unintentional, just imposed themselves upon us. For example that huge boulder that you saw as you entered the house, it's a massive chunk of granite, some two and a half tons of granite that was dragged over here from the Canadian Shield ...
Adam Brind: Wow.
Darko: ... during the last glaciation by glaciers.
Adam Brind: Wow.
Adam Brind: Right, so yeah, there was no way of moving that boulder. And then I guess you just poured concrete around it and then the interior, and floor heating around it, right?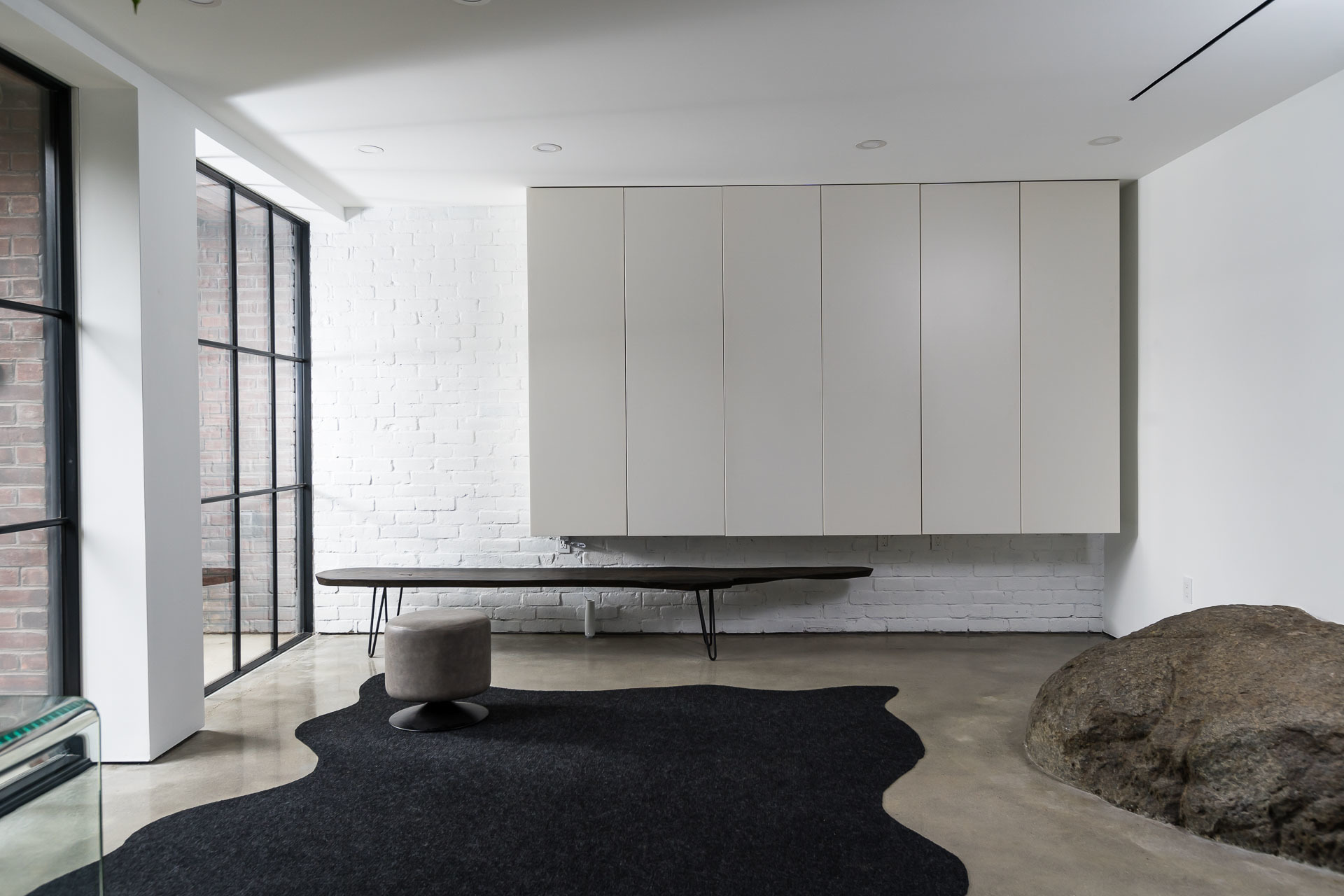 Darko: That's right, yes.

Darko: Yes, so we kept a piece of this, this garden feel, as you enter the house and as well, it uncovered a little bit of geological history of the house
Adam Brind: And then correct me if I'm wrong, you also, somehow integrated the fact that this was native land at some point. How did you do that?
Darko: That's another little story. Used carved sinks ...that were made by a native artisan
Adam Brind: So those sinks we see on this floor and on the massive bedroom, those were actually hand carved sinks by a native artisan?
Darko: Yeah.
Adam Brind: That's incredible.
Darko: And then later I learned that Withrow Park was actually a settlement, a native settlement, for a long time.
Adam Brind: Ah. It sounds like you've gone to the ends of the world to find materials for this house.
Darko: May feel that way, it's all sourced through distributors here. It does come from around the world, so brick is from the United States, some flooring is from Spain, and there was a lot of material from Italy.
Darko: The lighting, the kitchen, and then some local artisans were employed as well for metalwork, for some of the furniture that you saw in the lower level. So it's eclectic ...
Adam Brind: Wow.
Darko: ... mix trying to maintain this idea of clean yet warm and inviting ...
Adam Brind: Yeah.
Adam Brind: And so I find too when people move into houses, they get a sense of something different or, is there anything in the house that's kind of shocked you or your favourite part of the house that you know, didn't expect? What surprised you after now you've been living here?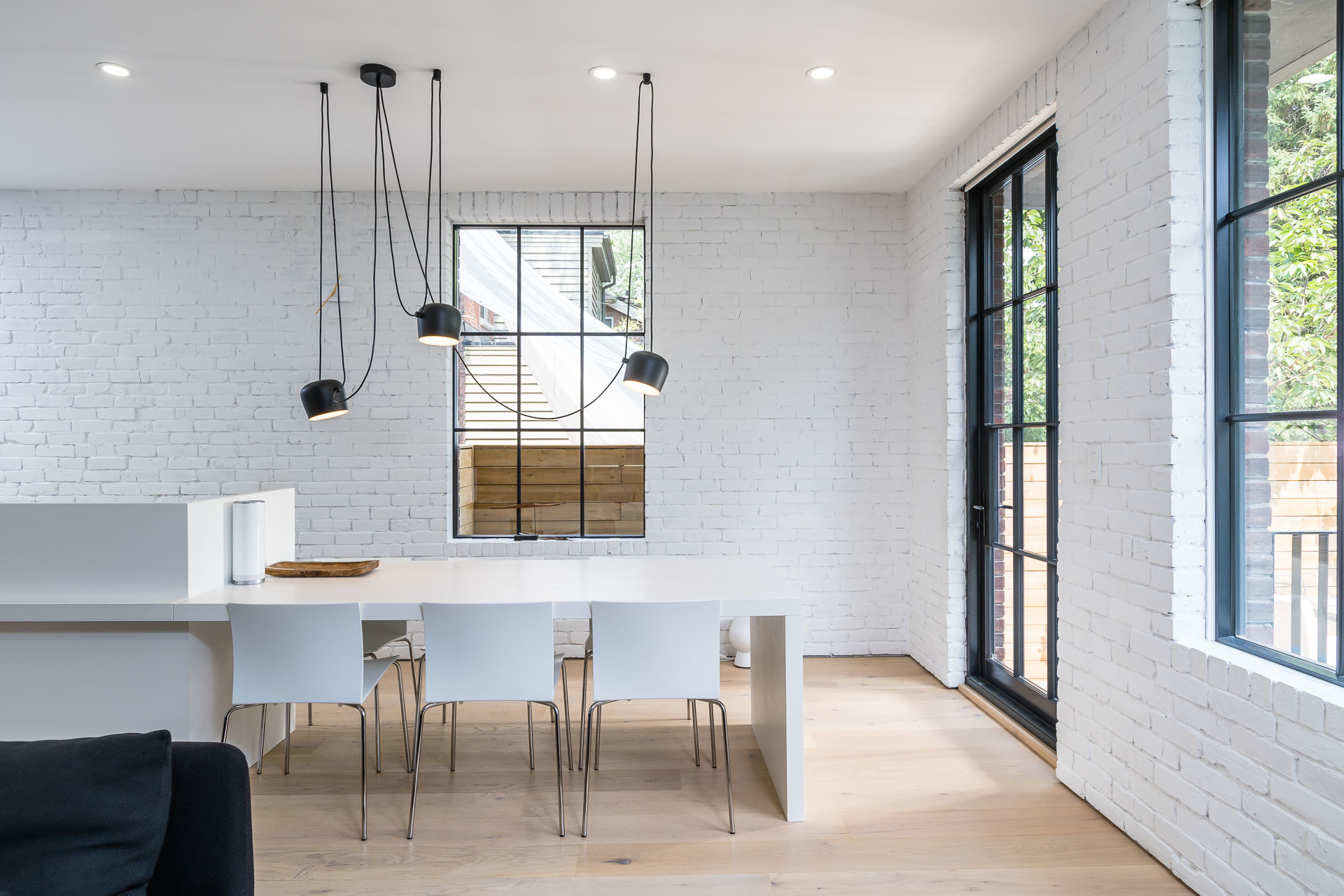 Darko: Once it was built, then I'm overwhelmed. It's better than what we thought it would be so I love sitting in the sitting room ...
Darko: ... next to the fireplace, looking at the park, and the park is really lively.
Darko: People-watching, dog-watching ...
Darko: ...art happening in the park, seasons changing, it's never boring.
Adam Brind: And it obviously doesn't hurt that it's west facing and you get the beautiful sunset every night in the middle of the city.
Darko: Yeah, that's true.
Adam Brind: That's incredible. So what's your favourite room in the house and why? 'Cause there's so many great ones.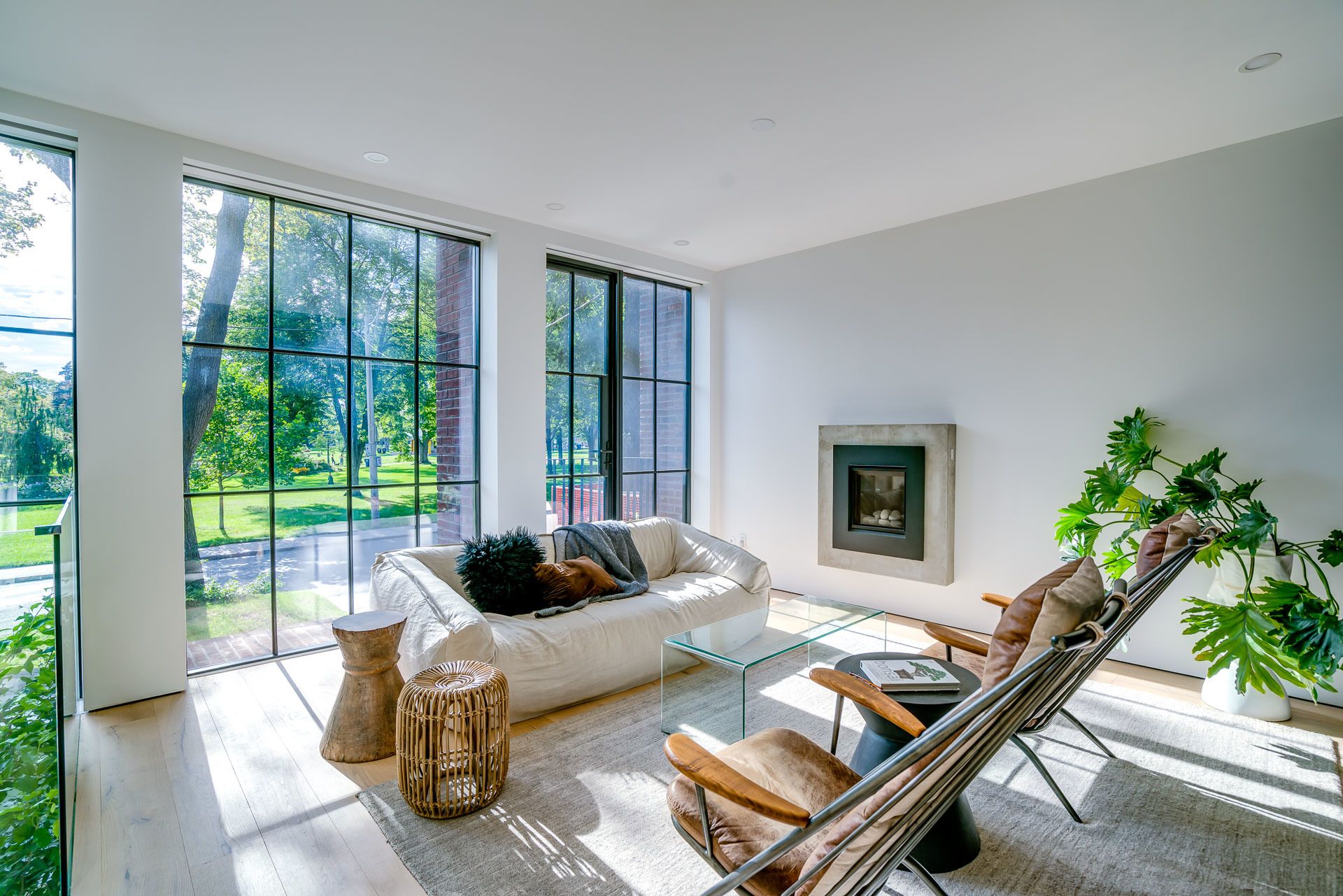 Darko: It's like asking to pick your favourite child (laughs)
Adam Brind: (laughs)
Darko: Almost. If I have to say what my favourite room is, I would say it's the sitting room.
Adam Brind: Yeah. So that's on the second floor, looking west over Withrow Park.
Darko: That's right.
Adam Brind: Are you sure it's not downstairs in that really cool entertainment room with the custom-made white oak table there? (laughs) 'Cause that's a pretty cool room.
Darko: It comes close, yes.
Adam Brind: So that's awesome. So what about the outside, because this house has multiple areas outside where you can hang out, so can you talk to me about a little bit about, you know, where your favorite spaces are or why you decided to have two patios facing west?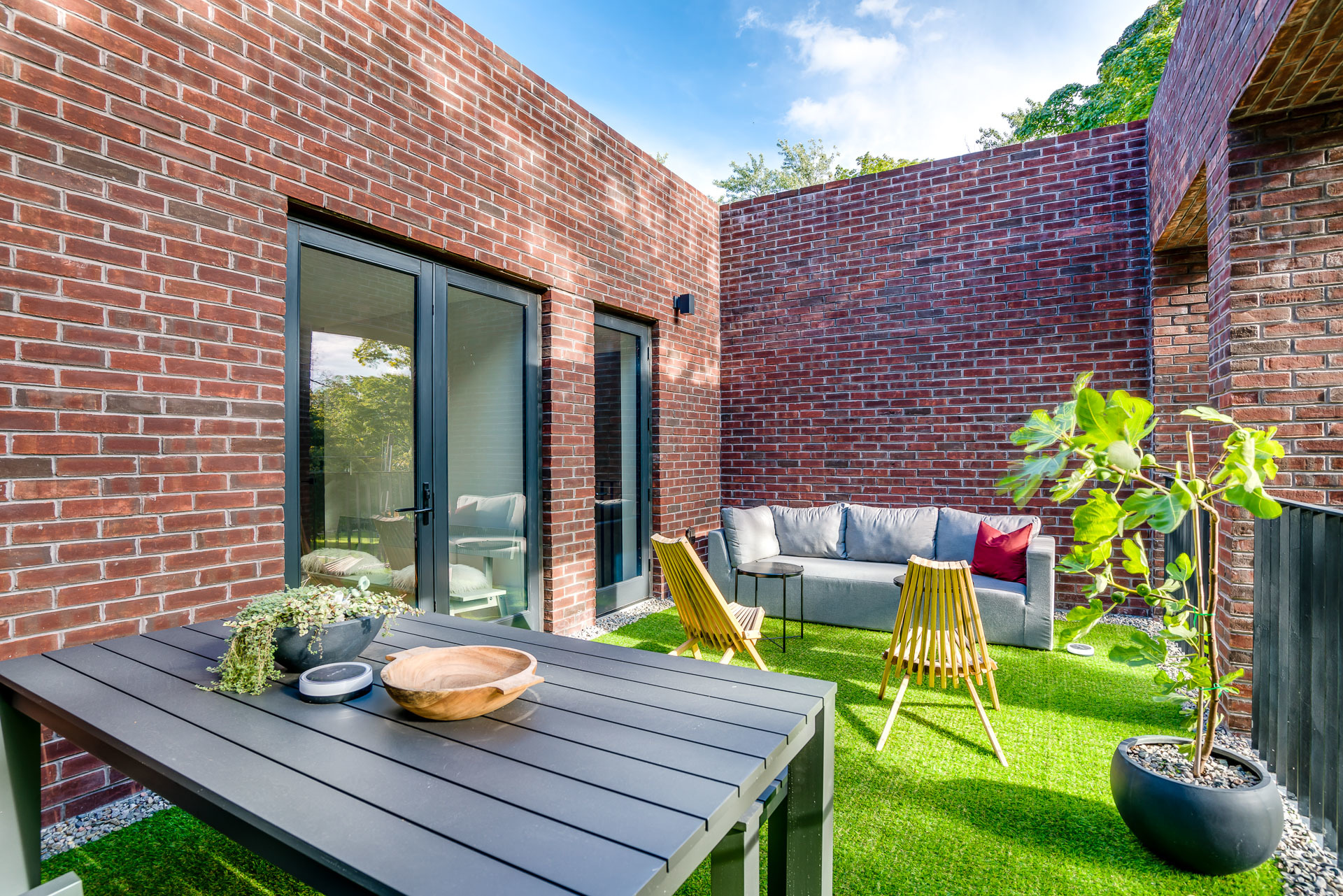 Darko: Basically, it depends on the time of the day on the function, so we have one that's right after the entertainment room but is designed to be almost as an extension. It's a very private little cozy nook. Then we have the backyard, with a deck and some greenery, that you can enjoy. There is two terraces overlooking the, the Withrow Park where you can sit. If you have friends over, then the larger terrace is the perfect spot to be and the most private, on the terrace people almost don't see from the street. The top is off of the master bedroom where you can enjoy a nice cup of tea in the evening looking at downtown.
Adam Brind: Wow. You filled a bar up there just in case, right?
Darko: Just in case.
Adam Brind: Yeah, just in case. And people will wanna know this, you and your wife are not builders. You do this just purely out of passion. Where does this come from?
Darko: Well, we're not architects either.
Adam Brind: Yeah.
Darko: We just love designing spaces that we live in.
Adam Brind: Wow.
Darko: So it's a privilege of being able to design your house the way that you like it.
Darko: And we're very happy to be able to do that.
Adam Brind: Can you tell me  a bit about how you designed kind of the kitchen area, to the walkout the backyard, and how it's conducive for having friends and family over?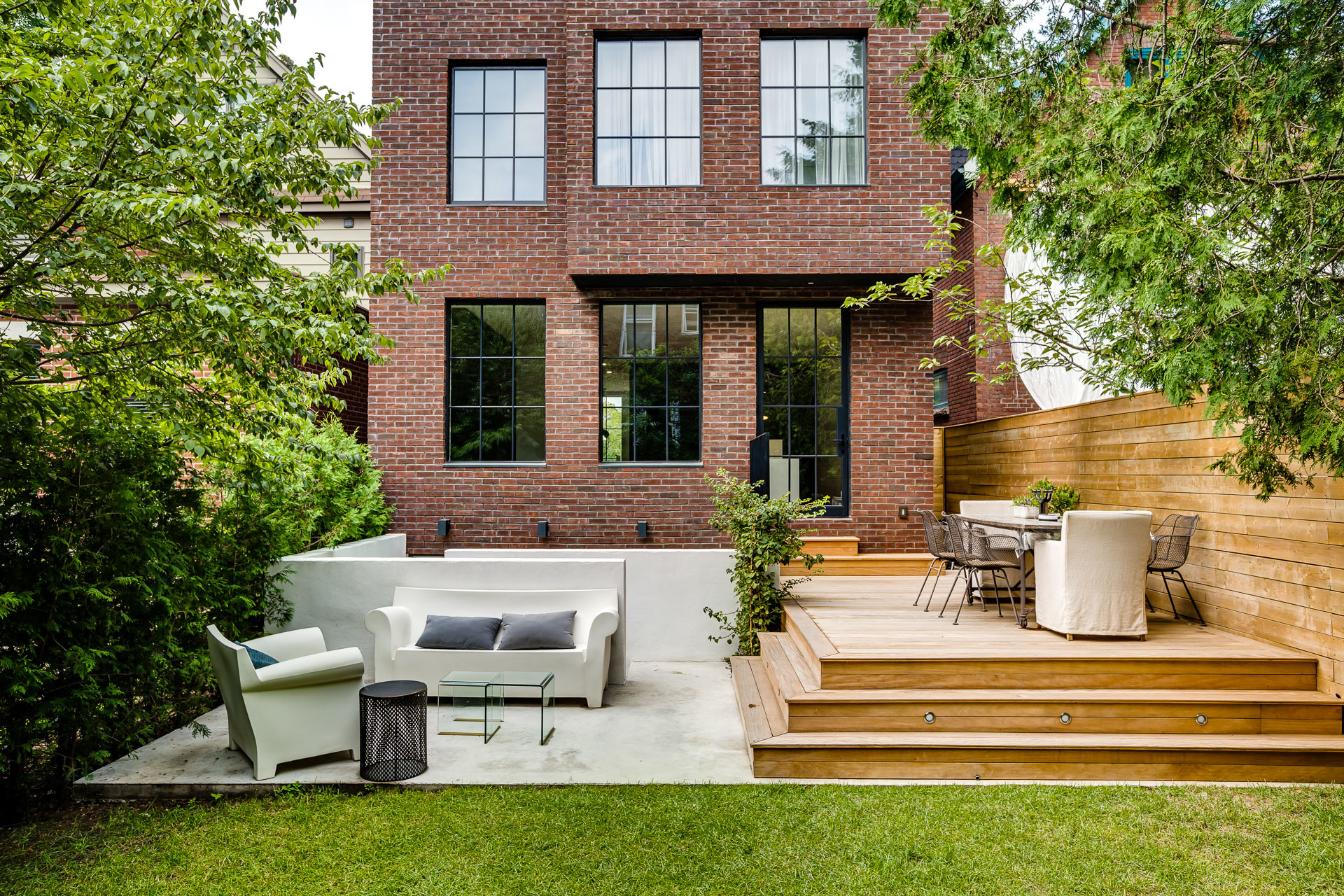 Darko: Well, we try to use the space that we have in multiple ways.
Darko: So when designing the kitchen, we try and hide your standard kitchen elements so fridge and the freezer and dishwasher and so for the appliances are hidden ...
Adam Brind: Right.
Darko: ... inside cabinets, so you don't necessarily see them or a faucet in the kitchen sink could be lowered if you don't need it... so it's not obtrusive, so you create another space by removing ...
Darko: ... utilitarian elements.
Adam Brind: Right. And is that a play on a kind of a Japanese modernizing thing?
Darko: Yeah, as in Japanese design, you move a piece of furniture or you have a sleeping room, or you have a living room.
Adam Brind: Mm-hmm.
Darko: So that's where we saw an idea, using the space economically.
Adam Brind: Absolutely. Yeah. And lastly, I wanted to ask you about the master bedroom. It's almost like its own individual en suite and you designed it such so that the elevator can literally go from the ground floor all the way up to the master bedroom without having to stop at another floor.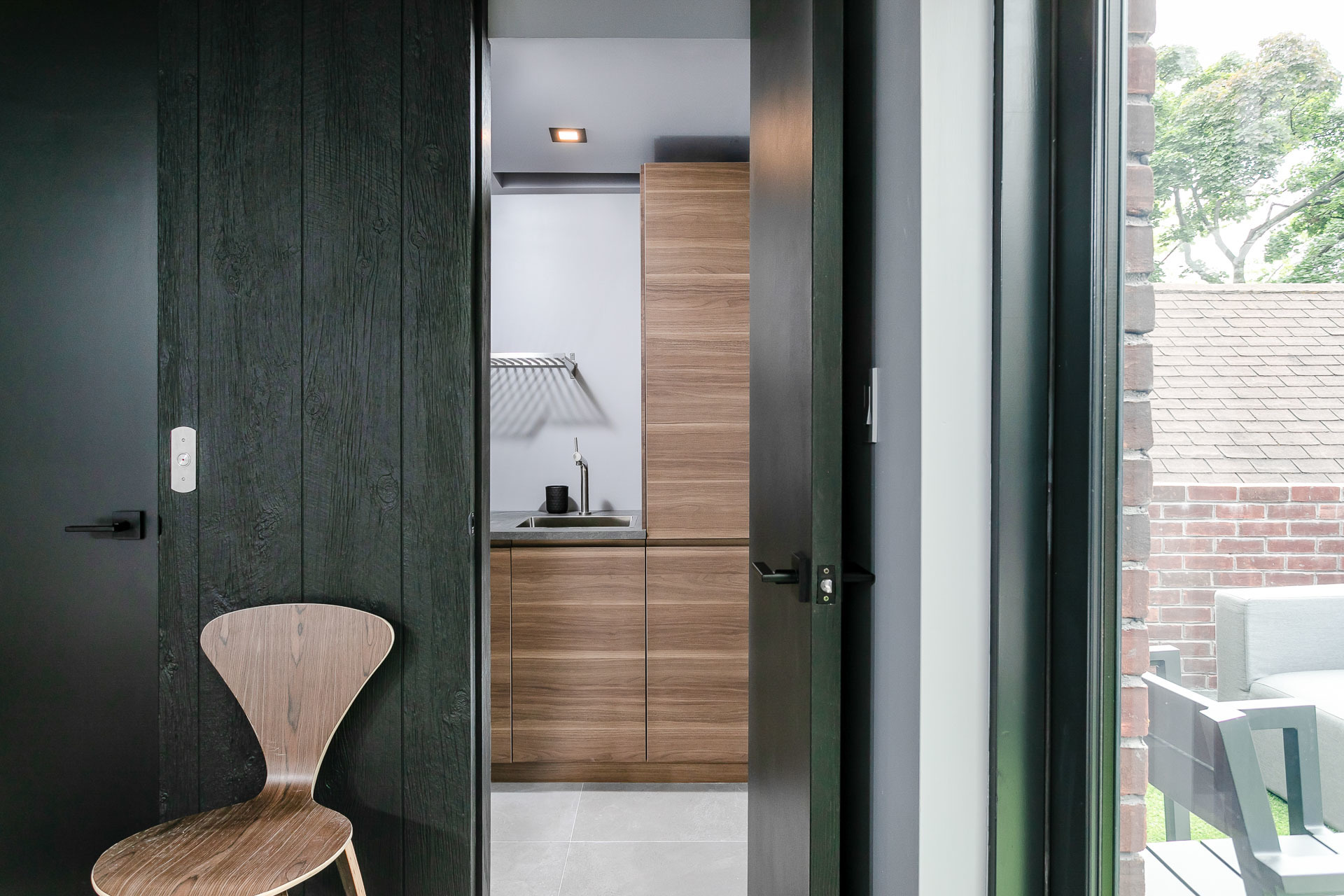 Darko: Since house was being built pretty much from scratch, that including a feature like an elevator ... is an important addition ...
Darko: ... because that will allow one not to have to move out of the house if ...
Darko: ... your health deteriorates ...
Adam Brind: This is again one of the most unique houses that I've ever seen. The details are endless and it would take us hours to go through them all. All I wanna say is congratulations. I mean, this house is truly spectacular, you've achieved something that really does feel like it stepped out of New York with a modern flair to it. I really wanna thank you for your time.
Darko: Thank-you